Date:  29 March
Address: Perscentrum Nieuwspoort
Lange Poten 10, 2511 CL Den Haag
Entry: 16:30
Evening: 17:00 – 20:30 (17:00 – 18:30 first session; 18:45 – 20:30 second session) with musical intermezzo by Katja Dirven-Didychenko (cello) and Evelina Vorontsova (pianist). Entry possible per session
Drinks: 20:30 – 21:30
Language: English
Entrance: Free
Register through: (the registration is free of charge. But in order to proceed with registration, please, choose iDeal as a payment method)
In 2015, the Dutch parliament has approved the association agreement between the European Union and Ukraine.  Out of the 28 EU countries most have now completed the full procedure of ratification of the Agreement. Some parts of the Convention are in fact already in force since January 1, 2016, but formally the agreement may still not be completed because the Netherlands has not ratified the document yet. On April 6, 2016 a consultative referendum is being held in the Netherlands regarding the ratification of the agreement.
In the agreement, the EU and Ukraine agreed on economic and political cooperation and, above all, the trade. Wat exactly does the agreement mean? What benefits does the agreement bring to the EU Member States and Ukraine? How can the EU, the Netherlands and Ukraine benefit from a sustainable partnership? What is the added value for both parties?
During the discussion evening the Minister of Agricultural Affairs of Ukraine, Ukrainian and Dutch politicians, experts and entrepreneurs are going to meet each other in the public debate conducted by Kido Koenig.
Foundation Brand New Ukraine cordially invites you to attend the debate and discussions. In addition, the debate can be followed live on www.nieuwspoort.nl and the questions can be brought live to the panel by anyone via twitter @BrandNewUkraine
The speakers are:
Oleksiy Pavlenko, Minister of Agrarian policy and Food
Taras Shevchenko, Board Co-chairman of the Reanimation Package of Reforms (NGO)
Daria Kaleniuk, Director Anticorruption Action Centre ( NGO)
Svitlana Zalishchuk, Member of Ukrainian Parliament
Kees Verhoeven, member of Dutch Parliament, party D66
Donald Kalff, Board Member Transparency International
Tony van der Togt, Senior Research Fellow, Instituut Clingendael.
Representatives from Ukraine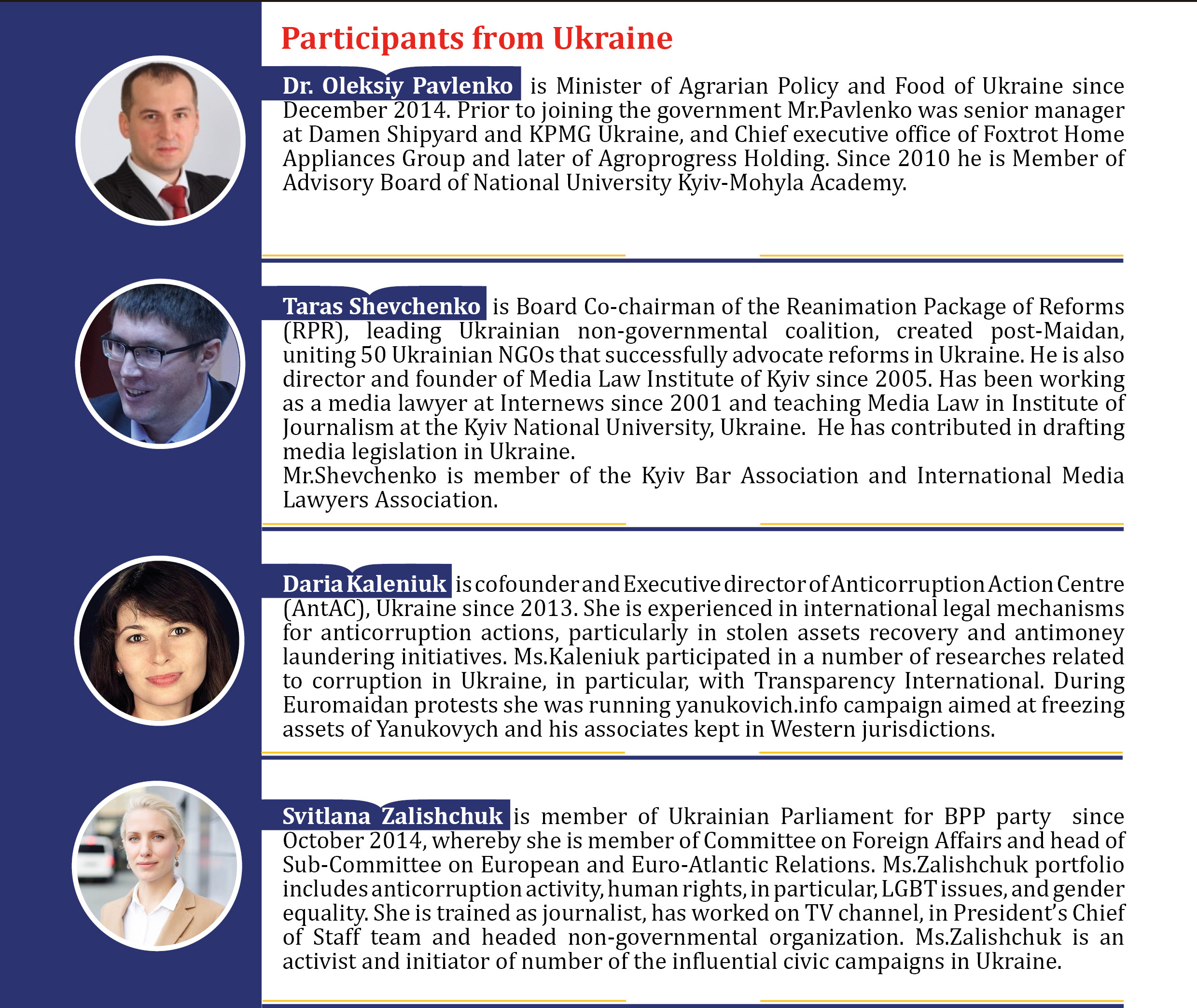 Representatives from the Netherlands